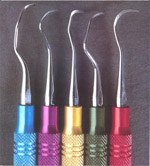 You have a choice of 5 colors--violet, blue, green, red and silver--to create the perfect scaler or curette for you. Choose the handle, then the individual tips. Color code each operatory! Color code each instrument! Color code each hygienist! Color code the dentist(s), or have no code at all! It's up to you!

Each brilliantly anodized "Rainbow Dental Handle" is machined from structural aluminum for extreme light weight and maximum strength. You grasp comfortably without cramping the fingers or muscles of your hand. The surface is aggressively ribbed with serrations. It is easier to grasp and control than a smooth handle, especially when your fingers become moistened with saliva or perspiration. You feel the assurance of greater tactile sensitivity and control during the detection and removal of calculus. They become an extension of your hand.

Also, each handle is a comfortable 5/16" and is 20.5% lighter than some stainless steel handles. Studies suggest that varying the size of handles you use will help to reduce some symptoms of carpal tunnel. Your hands are happier at the end of the day! Marie's scaler and curette tips are durable. They last longer -- up to 52% longer because of our precise and proprietary hardening process. Bottom line -- you sharpen less and get one of the best instruments in our industry.
Environmentally friendly...
Once it's time to replace the instrument, don't throw them away. Haven't you found that the handle far outlasts the tips? It's kind of a shame to throw them out, isn't it? Well now you don't have to! Marie's instruments are cone sockets. The tips conveniently screw into the handle and can easily be replaced by you in 60 seconds! No more tossing of perfectly good handles! We are doing our part to save you money and preserve our environment.
About our quality...
Total quality control is a commitment, and it's personal. The facility where our instruments are manufactured strictly adheres to FDA Good Manufacturing Practices Regulations for Medical Devices and is ISO 9001 Certified. Each instrument is logged by Lot Number through manufacturing, which allows total traceability. Everything is done right, and what you get...is right.

Only the finest raw materials are used. Our stainless steel bar stock is manufactured in the United States, laboratory tested and lab-certified for composition, hardness, tensile strength and microstructure. All our aluminum bar stock is high-strength structural aluminum, also lab-tested and lab-certified. You can feel absolute confidence when using our instruments.

Our Explorer Tips are machined from a specialized alloy and are completely corrosion-free. Each tip is so thin it can detect the finest cracks and caries, yet so strong, it is virtually unbreakable. This alloy is treated to enhance its excellent "memory characteristics, enabling the point to spring back to its manufactured shape.

The Yellow and Black Probes are brilliant and designed for easy reading. The accurate and distinct markings assure you of consistent periodontal pocket measurements.

Scaler and Curette Tips are made from 440-A corrosion-resistant stainless steel, machined to our rigorous specifications, and strategically hardened to maintain a sharper edge, longer. 

And finally, Marie's instruments are made by skilled craftsmen and craftswomen whose experience total over 300 years. They possess an attitude of determination to make it right...the FIRST time. Customer satisfaction is their mission. When and only when you're happy, they're happy.
Here's what your colleagues are saying...
Special Offer...
Your satisfaction is guaranteed! Try our instruments for 21 days risk free.
Experience the comfort, feel the extra tough and sharp tips, and enjoy the rainbow colors!
You will be impressed with the quality and workmanship.