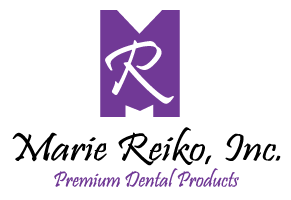 Premium Dental Products
Marie Reiko specializes in premium products for the dental professional. We are a resource for unique, yet practical tools for you the dentist, dental assistant, dental hygienist.

Dealers and distributors are welcome.

FREE BROCHURE. You can now design your own dental instruments (scalers and curettes). The Rainbow Collection enables you to choose your favorite color handle, then your preferred tips (Graceys, Columbias, etc). The result - a personalized dental instrument just for you.

FREE SAMPLE (Dental Professionals Only). Try our Fuzzys! This disposable applicator provides precise application in the tiniest areas. Eliminate dripping, spilling, and waste. Highest quality, lowest price.

FREE CD ROM. This dental post does not fracture teeth and has the very best retention and stress distribution. View a demonstration of the Kurer K4 Anchor System -- the only system with 35 years of clinical success. 

We are committed to excellence, the distribution of quality dental products, outstanding customer service, partnerships with our customers, and having fun!